Expert Resource specializes in all of these standards. Our consultants provide comprehensive services including document development, training, implementation and consulting.
---
Management Systems Standards

ISO 9000
The general Quality Management System (QMS) by which most others are based
ISO 13485
ISO 15189
ISO 14971
International Medical Devices QMS, Medical Laboratories, Medical Risk Management
CMDCAS, CMDR
Canadian Medical Devices QMS
Medical Devices CE Mark 510(k)
Technical File Standards for In-Vitro Diagnostics (IVD) and other Medical Devices, European Union, and FDA
AS9100, AS9110, AS9003, AS9120, AC7004
International Aerospace QMS
Nadcap
Aerospace and Defense Contractor Accreditation Program
MedAccred
Medical Device Contractor Accreditation Program
ISO 14001
Environmental Management System
IATF 16949
International Automotive QMS
Automotive Processes
PPAP, APQP, MSA, FMEA, SPC, CQI-9
ISO 17025, AC7006
Inspection and Calibration Laboratories QMS
TL 9000
Telecommunications QMS
OHSAS 18001
Health and Safety MS
ISO 22301
Business Continuity Management System (BCM)
ISO/IEC 27001
Information Security Management (ISMS)
Key Steps to your AS9100 Management System Implementation
Planning Phase
Kickoff Session: an initial meeting with key process owners to map out what documentation must be created or updated and how the project will be rolled out over a 6-month timeline (range: 4 to 8 months, depending on the operation). This sets the expectations of the project, the roles and responsibilities of each participant, and results in the creation of a Document Map.


Document Map: a tool which lists all documentation to be created and states the following information for each document: related requirement of the standard, document control number, process owner, development status, and comments. This tool is updated by ER frequently and distributed to all interested participants.


Project Plan: ER will create a detailed project plan that will outline every milestone and its scheduled start and completion dates. At any point in time, you will know if we are on time, behind or ahead of schedule.


Registrar Selection: ER's consultants have successful experience with the most reputable registrars in the nation. If you haven't already selected a registrar, ER will create a short-list of registrars for you. Each registrar will have experience in your industry, have presence in your geographical sales areas to promote name recognition, and meet any other requirements you feel are important. We will draft and send a request for bid on your behalf and review the quotations with you. The final choice is ultimately yours, but not matter which registrar you select, we guarantee your successful audit.


Development and Implementation Phase
Document Control: ER will create or update your document control system to comply with the management standard. This includes the creation of the procedure and training.


Quality Manual (level 1): As a requirement of most management systems, your organization will require a quality (or environmental) manual that summarizes how the organization is managed. This manual includes your policies, an organizational chart, and a review of your management procedures. Unlike most consulting companies, ER customizes your manual to reflect your vision. ER interviews your top management during a facilitated meeting to capture the essence of the company while minimizing the business disruption of top management. The quality manual can describe the organization in a way that new employees or key clients can understand without reading all of your procedures. The manual often addresses the requirements of management standards directly and becomes the first level of documentation.





Quality
Manual
Describes
the QMS
Level Two
Procedures
Describes process steps for who is
doing what, where, when. This is
often the tribal knowledge that is
passed down but not documented.
Level Three
Work Instructions
Detailed instructions: traveler, lists, logs, prints, forms,
diagrams, user manuals, ERP and MRP system
Level Four
Quality Records
Detailed historical records to show evidence of completed work




Procedures (level 2): The vast majority of your project will be the creation, training and implementation of procedures. These procedures are referenced in the quality manual and the document map. Procedures explain Who should be doing What, When and Where. They are the overall guiding management procedures that may be departmental, or cut across many departments. The average organization will have 10 to 20 procedures, give or take a few based on the complexity of the organization and the standard.


Work Instructions and Quality Records (level 3 & 4): Work Instructions (level 3 documentation) often take the form of lists, logs, forms, user manuals, diagrams, blue prints, travelers, change requests, reports, schedules and charts. If referenced in a level 2 procedure, ER will ensure that the document will be placed under document control by placing it on the document map. Typically, ER does not create work instructions, although they may become a customized option. Level 4 documents are Quality Records, which include forms, lists, travelers, reports and other documents that are stored for historical reference (proof you did it right).


Training Phase
Company-wide Audit Preparation Introduction: ER provides a company-wide introduction to all employees to explain the benefits of a management system, how a management system will apply to their job, how to implement procedures, and how to prepare for an audit of the management system. Sessions are typically 2-hours provided in groups of 20 in either English or Spanish. The training utilizes projection overheads and each participant receives reference materials.


Internal Auditor Training: ER will train up to 20 employees to become your internal auditors. This two-day training session will include an introduction to the entire management system standard, auditing principles, case studies, sample auditing materials, and completion certificates. The training utilizes projection overheads and each participant receives reference materials.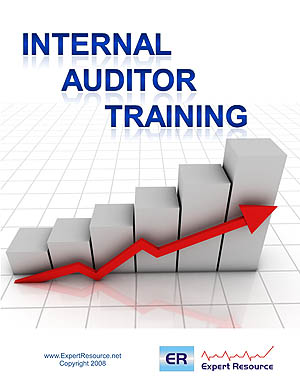 Auditing Phase
Internal Auditor Mentoring: ER will provide valuable assistance while mentoring your internal auditors through their first internal audit. ER will make sure that the audit is thorough, that the proper reports are made, and that each auditor is comfortable with the process.